Our People
The culture at Watson Gloves consists of a diverse community of trailblazers, go-getters, leaders, innovators, and thinkers that all come together with their unique perspectives, identities, and experiences to shake up the glove industry with innovative and sustainable hand protection.
If you're looking to find a career with exciting challenges and opportunities surrounded with a team of amazing people, then you're on the right path.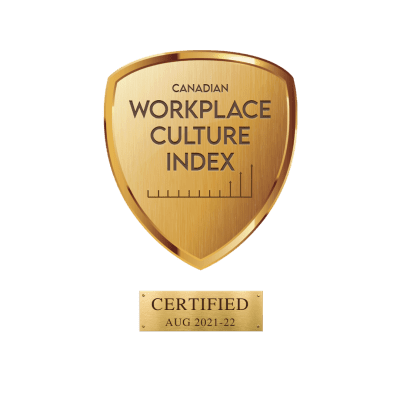 Culture Innovator
Watson Gloves is proud to announce that they have been certified for exceptional workplace culture by The Canadian Workplace Culture Index, the leading Canadian measure of workplace culture.
To be certified as a Culture Innovator, companies must exceed the national benchmark for exceptional culture. Organizations who are leading the way amid the pandemic, and who are demonstrating care for their employees, their customers and their communities during this difficult time. Employees are given an anonymous survey where the answers are ranked against the industry leader, and then an organization will be certified if they meet the benchmark.
Read our press release here
We've been leaders in the glove business for over 100 years and counting. While living, educating and preserving the culture that we established and cultivated since 1918, we're also on a forward-thinking path to elevate the glove industry with innovative and sustainable hand protection by protecting the people who work with us, the customers who buy from us, and our environment in which we live in.
Our Core Values
Our core values are our guiding principles that shape how we navigate the industry, build trust and confidence with our customers, and lead as individuals. By following our five core values, it has brought together a group of hard-working individuals that share a mindset of succeeding by being authentic, working as a family, acting with integrity, having fun, and encouraging continuous improvement.
AUTHENTIC
We are true to who we are and what we do
FAMILY
We support each other and work as a team
INTEGRITY
We deliver on our promises every single day
FUN
We work hard and play hard
CONTINUOUS IMPROVEMENT
We constantly find ways to improve. Status quo has never been our goal
Our Benefits & Perks
Whether it's life at work or life outside of work, we want to make sure everyone is supported, not only with a great group of people, but also with great benefits. We strongly support a healthy and happy work environment and culture.
CHALLENGES & OPPORTUNITIES
POSITIVE WORK ENVIRONMENT
Diversity & Inclusion
We respect and embrace the diversity of thoughts in the workplace and constantly work towards creating an inclusive environment where employees feel safe, welcomed and valued. We are an equal opportunity employer that grants opportunities of employment and advancement regardless of race, colour, place of origin, religion, immigrant and newcomer status, ethnic origin, ability, sex, sexual orientation, gender identity, gender expression, and age.
Get the latest updates!
Get the latest in Watson Gloves news, product releases, and industry updates.