Watson in a Nutshell
With a century of experience, Watson Gloves is Canada's single source for hand protection: at work, at home, at play. Our team of glove specialists takes great pride in working with customers to help find the perfect hand protection for just about any task imaginable. Whether we source our gloves from the world's finest manufacturers or handcraft them in our local factory, every pair of gloves we sell has been selected from top-of-the-line materials, design, and craftsmanship. Try on a pair of Watson gloves. Your hands will thank you!
Two Person Show to International Operation
In April 1918, John Watson and Wayne Stanley started a small business selling hand-crafted gloves to Vancouver's dock workers. Over 100 years later, Watson Gloves has grown across Canada and around the world. As leaders in distributing hand protection, we offer the widest range of quality gloves for work, home, and play.
How did we get here? We have stayed true to our founders' belief that quality materials and above-and-beyond customer service go hand-in-glove. Our artisans – with an average 20 years' experience – put the same level of dedication and craftsmanship into every pair of gloves we make, as did our founders.
Perhaps more importantly, we have expanded our horizons to keep up with our customers' changing needs. Our talented Buyers travel the world over in search of the most innovative materials and designs so that we can offer the best gloves for any task: at work, at home, at play. From bustling cities to remote corners of our country, our efficient distribution system and team of Sales Reps help ensure that the hands of our customers are protected.
At Watson Gloves, we do one thing, and we do it extremely well: we are the glove experts. Mr. Watson and Mr. Stanley would be proud to know that even as we continue to grow, we continue to earn our reputation as Canada's single source for hand protection.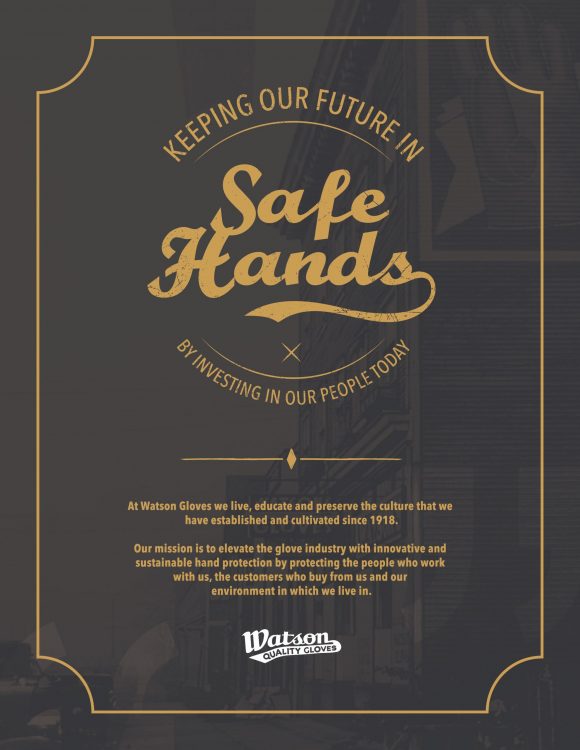 Keeping our future in safe hands by investing in our people today
At Watson Gloves, we live, educate and preserve the culture that we established and cultivated since 1918.
Our mission is to elevate the glove industry with innovative and sustainable hand protection by protecting the people who work with us, the customers who buy from us and our environment in which we live in.
Elevating industry for the greater good through sustainability and innovation protecting people and our planet
Our Core Values
Our core values are our guiding principles that shape how we navigate the industry, build trust and confidence with our customers, and lead as individuals. By following our core values, it has brought together a group of hard-working individuals that share a mindset of succeeding by being authentic, working as a family, acting with integrity, having fun, and striving for continuous improvement.
Authentic
Each Watson Gloves' employee brings their own talents and personality to the table. Our employees embrace who they are while also authentically representing our brand.
Family
Since 1918, we've been keeping the family spirit running. That means treating everyone as more than just co-workers. We support each other as we would like a family and the great culture we have in our company can be attributed to the strong bonds shared within the Watson Family.
Integrity
Whether it's with our customers, community or employees, we are committed to working with integrity and honesty. We are upfront on our promises and ensure to deliver them without compromise every single day.
Fun
Although we work hard, we don't forget to have fun in the process. The Watson Family is a group that knows how to have fun while putting up great results at the same time.
Continuous Improvement
Status quo has never been our goal. We constantly find ways to improve, whether that's finding new processes, systems or ways to innovate and do business so that we're always a step ahead of our industry.
Our Commitment
We're committed to keeping hands safe by delivering high-quality products, providing exceptional customer service, and pushing innovation in the industry.
Quality
Every pair of gloves we sell has been hand-selected for top-of-the-line materials, design and craftsmanship.
Service with a Smile
Our experienced team of specialists are committed to our customers' complete satisfaction with each and every pair of Watson gloves purchased.
Innovation
We commit to being innovative leaders in our industry by bringing the most advanced gloves to the market and into our customers' hands.
You can learn more about our history as a company here or learn more about our corporate social responsibility values here.