Gloves with hazard resistance, such as chemical, cut, flame, and impact, require standards that need to be passed. At Watson Gloves, we take great pride in testing our gloves with globally reputed, up-to-date standards, so that you can find the right glove for your job and also feel safe in the gloves that you wear. Below are the standards we test. To learn more about a specific standard, click the standard title.
ANSI/ISEA 105-2016 standard includes a level of classification for cut resistance. The results of the ANSI ASTM F2992-15 cut test method features 9 levels of cut resistance from A1-A9. Learn more.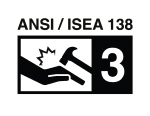 Assessment of performance is based on peak transmitted force with fingers and knuckles being tested. The lowest performing areas define performance. Impact resistance is based on three performance levels – the higher the level, the greater degree of protection. Learn more.
EN 374-1: Resistance to permeation is assessed by measuring the time for a chemical to break through the glove material. Chemicals tested against are designated by an identifying letter from A-T of at least 3 chemicals from a list of 18, for which a breakthrough time of at least 30 minutes has been obtained. Learn more.
EN 374-2: Performance levels are assessed according to the acceptable quality levels (AQL) of the gloves. Gloves must meet at least level 2 of EN 374-2 to be considered micro organism resistant. Learn more.
EN 374-5: Gloves under EN 374-5 are classified as either "Protection against bacteria and fungi" or "Protection against bacteria, fungi and viruses". Penetration testing is required for all gloves claiming micro-organisms protection. Gloves claiming protection against bacteria, fungi and viruses require additional penetration testing according to ISO 16604:2004. Learn more.
EN 388 standard for protection against mechanical hazards is expressed by a pictogram followed by four numbers and two letters (performance levels), each representing test performance against a specific hazard. Gloves are tested for abrasion resistance (0-4), blade cut resistance (Coup test) (0-5), tear resistance (0-4), puncture resistance (0-4), blade cut resistance (TDM Test) (A-F), and impact resistance (P (pass) or F (fail)). Learn more.
The nature and degree of protection for thermal hazards is shown by a pictogram followed by a series of six performance levels, relating to specific protective qualities. The higher the number, the better the test result. The following is tested: resistance to flammability, resistance to contact heat, resistance to convective heat, resistance to radiant heat, resistance to small splashes of molten metal, resistance to large splashes of molten metal. Learn more.
Protection against cold is shown by a pictogram that is followed by three performance levels, each pertaining to specific qualities: resistance to convective cold (0-4), resistance to contact cold (0-4), and permeability by water (0-1). Learn more.
Various global environmental standards are used to test our products and materials, such as biodegradability performance, recycled content, and harmful substances in gloves. Learn more.
Stay up to date with the latest Watson Gloves news, releases, and industry updates by signing up to our newsletter!